General Student Information and Support: Anatomy Program
Scheduling
Anatomy classes are offered both on the Rocklin and Nevada County campuses at a variety of times each semester and during summer sessions. Anatomy classes are offered at various times during the day and evenings (at Rocklin campus) to meet student scheduling needs.
The Laboratory Facilities
The laboratory facilities on both campuses have a rich combination of supplies, materials and resources to assist you in reaching your anatomy related learning objectives. A variety of dissection materials, charts, illustrations, models, audiovisual materials, microscopic slides, specimens, and various reference materials are used to reinforce and assist in the learning process. . On the Rocklin campus, the cadaver facility is available with supervision to all of our anatomy students. (Photographs of the facilities at Rocklin)
Student Support for Anatomy
Special review sessions, student tutors, increased access to instructors and laboratory facilities (by arrangement) all play a significant role in promoting student success.
Anatomy Learning Center -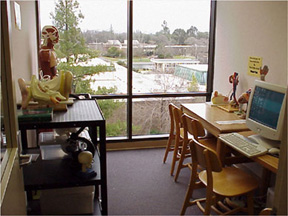 Tutoring Center / LRC
Within the tutoring center, located in the Learning Resources Building (Library), a special learning center has been set-up especially for our anatomy students. This anatomy learning center allows increased access to a variety of instructional materials to aid students in mastering the subject information.
Instructor Support Services
Our instructors are often available before and after class each day, time permitting. If it is necessary to get in touch with them at other times, please make specific arrangements or follow additional contact guidelines provided to you in class. If you have special circumstances requiring your absence from class, please talk to your instructor ahead of time if possible.
Students - Thank You!
Our anatomy program is a challenging and successful program. The strength of our program is the cooperative working relationships that develop between the students, teachers and staff. Thank you.