Sierra College Nature Area and Trail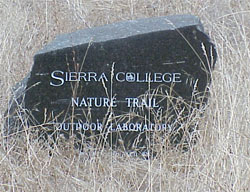 Spring is the favorite time for people to visit the Nature Trail, but it has lots to see during the other seasons of the year also. A short hike, the Nature Trail was established in the early 1960's and is kept as natural as possible with a minimum of maintenance. Originally disturbed by gold prospectors, agricultural uses and others, the nature area is going through a process of recovering and re-growth under the stewardship of the college. It provides an excellent cross section of interior foothill woodland, riparian (stream), vernal pool, and chaparral plant communities.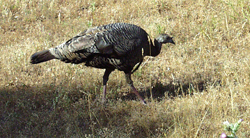 As you walk along the trail and some of the adjoining sections of the cross-country track, you will see open woodlands, closed canopy woodlands, stream wildlife and a variety of birds (if you have patience). You will discover many examples of plant and animal interrelationships in this ecological habitat. Deer, raccoons, foxes, gopher snakes, turkeys, phobes, quail and other foothill woodland residents can be seen if you are quiet and lucky.
Length: Approximately a mile (Nature Trail, itself) or two miles (with the addition of the back section of the cross-country track)
Availability: The campus is open to visitors and students most days of the year. There is no formal procedure for access to the trail except to obey parking regulations. The Science Club does provide guided tours of the trail primarily in the spring to groups by prearrangement. If you need special accommodations, contact the locations or organizations for availability information.
Location: The Nature Trail is located within the Sierra College Nature Area and Outdoor Classroom on the Rocklin Campus. Parking is near by in the college student lots, closest is the Science / Museum / Dormitory Lot. The Rocklin Campus of Sierra College is located at 5000 Rocklin Road, just off of Interstate 80. The official beginning of the trail is down toward the creek, found by walking between the Dorms (on your left) and the Science Building (on your right) as you leave the Science parking lot and head roughly north.
The new version of the Sierra College nature trail guide, Sierra Foothills Nature Guide, is now available and is the best published book for our nature trail and immediately surrounding area.
Follow this link for more information on the Sierra College Nature Area (Rocklin Campus)
Follow this link for the Sierra College Natural History Museum's information on Nature Trail information and Science Club guided tours.